About Dr. Panagopoulos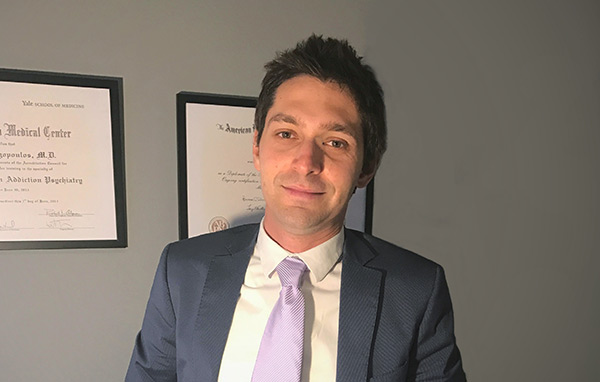 Vassilis N. Panagopoulos, MD, is a US-trained, board-certified Adult Psychiatrist currently providing his services as the Medical Director of Panagopoulos DLC. His Addiction Psychiatry subspecialty extends his psychiatric skill-set to serve the needs of his patients in multiple domains but also to assist the community in very frequently encountered problems such as tobacco and alcohol use.
Dr. Panagopoulos was born and raised in Athens, Greece. He completed medical school at the University of Patras Medical School in 2006 with a honorary distinction for being among the 5 highest-ranking medical students of his class. He completed his residency training as an Adult Psychiatrist at Washington University School of Medicine in St. Louis, MO, USA in 2012. He then expanded his training by completing the Addiction Psychiatry fellowship of Yale University, New Haven, CT, USA. He was formerly employed at the St. Louis Veterans Administration Healthcare System as a Staff Psychiatrist for almost 2 years taking care of Veterans with addiction and multiple other psychiatric problems. In terms of academic affiliations, he has served as a Clinical Instructor at Washington University School Of Medicine, St. Louis, MO, USA, since 2013 being heavily involved in teaching residents and medical students about addiction and psychiatry.
Dr. Panagopoulos has expertise in several different psychotherapeutic techniques including Cognitive Behavioral Therapy, Group Therapy and Motivational Interviewing. He is a certified Medical Review Officer by the Medical Review Officer Certification Council for the interpretation of drug testing for employment purposes. He has an enthusiastic interest and significant related experience in the application of modern technologies in the daily clinical practice of psychiatry through the practice of telemedicine. Dr. Panagopoulos has served as a licensed psychiatrist in Cyprus since 2015.
Education
Medical School: Patras University Medical School, Patras, Greece (2000-2006)
Rural Primary Care Service: Kyparissia General Hospital, Greece (2006-2007)
Psychiatry Residency: Washington University School of Medicine, St.Louis, MO, USA (2008-2012)
Board Certification in Psychiatry by the American Board of Psychiatry & Neurology (2012)
Addiction Psychiatry Fellowship: Yale University, New Haven , CT, USA (2012-2013)
Board Certification in Addiction Psychiatry by the American Board of Psychiatry & Neurology (2014)
Psychiatry Specialty Title, Greece (2015)
Psychiatry Specialty Certificate, Cyprus (2015)
Publications in Peer-Reviewed Journals
"Towards objectively quantifying sensory hypersensitivity: A pilot study of the "Ariana effect" ". Panagopoulos VN et al., PeerJ. 2013 Aug 1;1:e121. doi: 10.7717/peerj.121. Print 2013. PMID: 23940834
"Examining the Association of NRXN3 SNPs with Borderline Personality Disorder Phenotypes in Heroin Dependent Cases and Socioeconomically Disadvantaged Controls". Panagopoulos VN et al., Drug And Alcohol Dependence 2013 Mar 1;128(3):187-93. doi:10.1016/j.drugalcdep.2012.11.011. Epub 2012 Dec 12, PMID: 23245376
The role of ghrelin in addiction: a review. Panagopoulos VN, Ralevski E., Psychopharmacology (Berl). 2014 Jul;231(14):2725-40. doi:10.1007/s00213-014-3640-0. Epub 2014 Jun 20. PMID:24947976
Prescription Opioid Analgesics Increase Risk of Major Depression: New Evidence, Plausible Neurobiological Mechanisms and Management to Achieve Depression Prophylaxis, Semenkovich K, Chockalingam R, Scherrer JF, Panagopoulos VN, Lustman PJ, Ray JM, Freedland KE, Svrakic DM. Missouri Medicine | March/April 2014| 111:2 | 149
Nitrous Oxide for Treatment-Resistant Major Depression: a Proof-of-Concept Trial, Peter Nagele, Andreas Duma, Michael Kopec, Marie Anne Gebara, Alireza Parsoei, Marie Walker, Alvin Janski, Vassilis N. Panagopoulos, et al. Biological Psychiatry; Published online: December 8, 2014; PMID: 25577164.